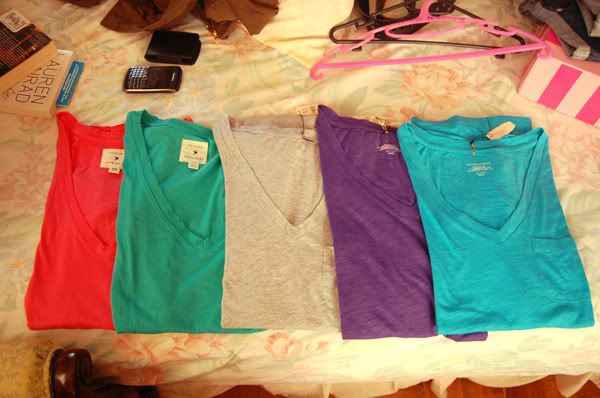 (L-R) First two from Forever21, Other three from Victoria's Secret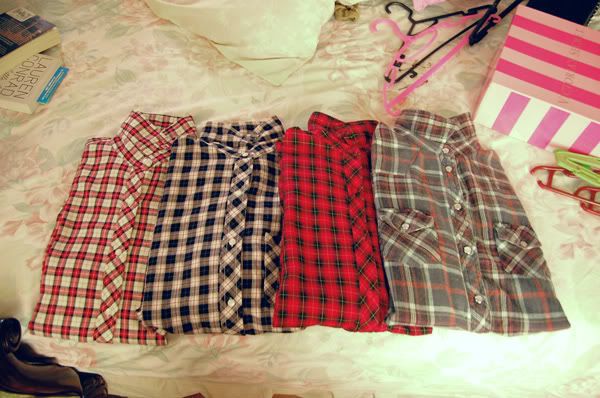 (L-R) First three from Victoria's Secret, last one from Topshop
My school uniform. They interchange every other week --one week in V-necks, and the next in plaid. I figured since I'm dorming, it'll be hard to pick out clothes every other week so having a uniform is the best remedy. Not so bad actually since it has lessened my "things to worry about" when packing.
So my plates have been accumulating this past week. I have three plates to make for Mechanical Drawing, and two for Free-hand. I've been so busy which is why I can really reassure you that my updates will just keep getting less until I get buried in all the plates I have to do. It was just that I was inspired to make a blog post that I decided to update. There's just too much happening in fashion right now that I couldnt just NOT blog about. For one thing, Mango has started their end of season sale last week (which I havent been to yet because of my hectic schedule !!!) while Topshop is having their sale on July 1 and 2 and Zara is having theirs on the first week of July although there is no exact date yet. Also, FOREVER 21 is opening in Manila on July 2 in SM Megamall. It's a big thing because its FOREVER 21 we're talking about. I dont know what to feel about it though. A part of me is disheartened because now everyone's going to be able to have the same thing and having something from F21 wont make you unique anymore (hahaha how seelfishh!). Although another part of me is ecstatic because that means we dont need to go abroad for our dose of Forever21! Also, having Forever21 here just makes us ALMOST as good a shopping mecca as Hongkong or Singapore! In my opinion, having F21 in Manila will increase tourism somehow especially since shopping at F21 Philippines will DEFINITELY be cheaper than in other countries considering the dollar conversions.
I still dont know if I will be attending the opening because one things for sure, there will be a LOT of people on that day hence I doubt I will be able to shop properly. I'm actually going through a shopping withdrawal right now -- I dont know if I should shop or not, because in all honesty, I still have a bunch of unused stuff here in my closet and I'd feel guilty if I buy another set of clothes, dump them all in, and wait for decades till I'm able to wear them. I even have shoes that I havent worn yet!! And it sucks because right now I'm eyeing this pair from the Forever21 site and I'd probably freak if I found it laying there on July 2. If I get the shoe, I KNOW that I wont be wearing it anytime soon since I still have two others waiting to be worn.
On the other hand, I WANT to go on the first day though because I just KNOW that there will be a lot on stake. I feel like theres this item that will be gone by the first day and I'm just too scared to let that happen. Hahaha! I just have this urge to go there and grab everything I love!
It's still on Friday though so I have time to think. There's lots of pros and cons to going there so I'm definitely taking that into consideration (class starts at 1pm, i have to take a trike, an LRT, and an MRT to get there, etc.). If all else fails, maybe I'll just wait for the fad to die down --and for my workload to lessen-- till I finally visit there. Buutt, I will let you know what happens for sure (even if it takes a lifetime before I get to update!). Till then!!