The results for the 2nd UPCAT Diagnostic exam came out today. My ranking went up from 18 to 12!!! Thank God! But my percentage is 49.42% and a percentage of 50% is needed to get in UP so I'm kind of in a critical situation. But I guess its an o-kay grade for something I didnt study for. If I got a 49% without studying, then with studying I'd probably get a higher percentage so HOPEFULLY I will be able to make it. AHEAD obviously helped me.
Anyway, after review school, we had our very own excursion as a class. We had it in Town and I had so much fun! There were so much funny moments and we even saw our teacher for todays lesson while going around. We had lunch at the foodcourt, bowling and billiards at Paeng's, Starbucks as a group, L4D and Counter Strike with the boys, and finally, Karaoke in Timezone.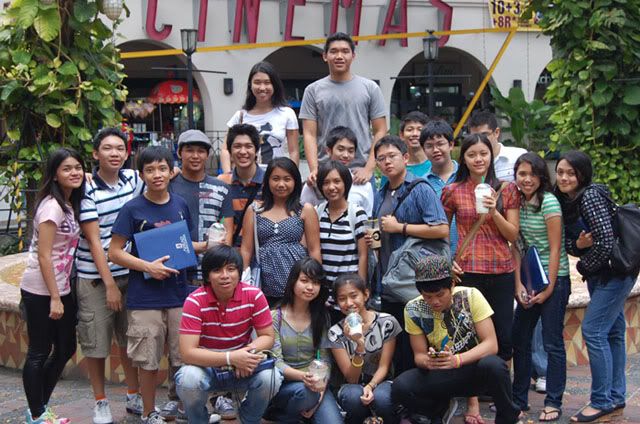 We were so many that we were enough people to do those Japanese gag videos wherein a crowd would surround a person and suddenly all run together to see that perons reaction. Originally, we were all going to do that same idea, but we decided it was too complicated for us to do since not everyone was sure of participating since it involved a lot of physical activity so instead what we did was look up in the sky as a group. It was hilarious especially when we spotted a man look up too. It would have been so much better though if we did the running thing. Now THAT would define funny.
We also made our little big "family" today. Of course, with Mr. President, Tim Buensalido as our daddy and Alex Austria as our mommy. And well, I took position as the first child, Joms took second, Bea took third, and the list goes on.
Some highlights of the day were:
- The prime trait Pancho looks for in a girl: "Miss, yung parang Ikaw"
- Denise's Top 3 favorites in the class :>
- Our great Japanese prank
- Juicy talk about crushes, love, and love lives with Alex, Menna, Bea, and Tim. :>
- Martin's Hayden Kho scandal and his performance of Careless Whisper.
- David's Korean song
- My first time to play L4D and CS! I kept dying.
So all in all, It was really fun spending time with everyone today. I got to know everyone a little bit more and I'm glad we were able to make good, happy memories together. Thankfully most of the class was able to come. I can't wait for our class picture taking day on Tuesday! AANDD I hope our farewell party will still push through *hint at Lans :>* GO AP7! :)