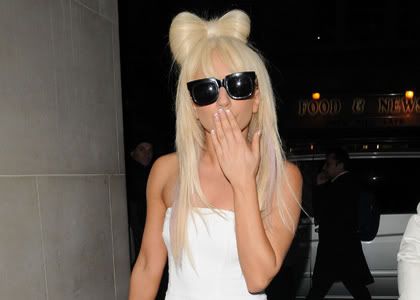 Because of the weather, I havent really had time to dress up and post new outfit pictures so here I am posting the most random things I could possibly find.
For one, Lady Gaga's bow styled hair is just too interesting to pass. I was browsing through Hayley's blog (Hayley of http://fashionhayleyhome.blogspot.com) and I stumbled on a video that she posted from Youtube. Its a ribbon hair tutorial which teaches how to do your hair Lady Gaga style. I just got fond of it cause it was so cool how the girl put everything together and that the outcome was so clean and polished exactly just like Lady Gaga's! Just watching the video alone can definitely entertain.
I'll try to post some more random online finds if I can. I am literally on house arrest (well I'm sure a lot are..) because of the storm and I havent been able to go out in the longest time. I guess its all for our safety anyway in the end. Please help continue praying for the Philippines especially those who were affected by Ondoy and those who are currently being affected by the super typhoon, Pepeng.