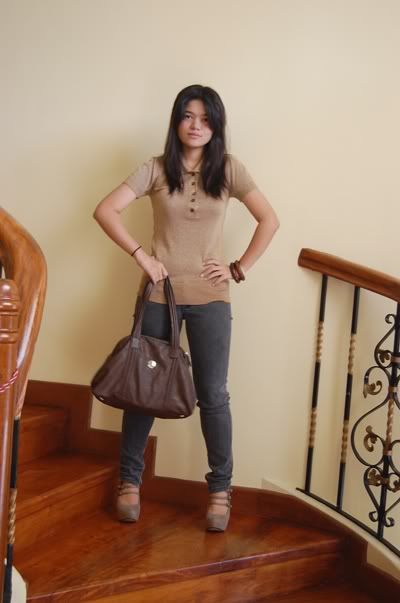 Skipped class today since I had to get my passport renewed. I've been wearing a lot of casual outfits lately so I decided that since we had to go in smart casual attire, then might as well take the opportunity to wear heels. Also, dad wasnt with us when we left the house (He was going to pick us up in Town from work) so I knew that he wasnt going to be able to stop me from wearing heels.
So this is what I wore. But when my dad came to pick us up, I immediately changed into a pair of plastic ballet flat Crocs because I knew he'd give me a long ass speech again about not wearing heels on casual days bla bla bla.
Unfortunately, when I took my heels off, I noticed that they got a black scratch/mark! I was sad because it's the first time I wore them and they already got damaged. It's suede and the mark was kind of like a pen mark so there was no way I could remove it. The mark was also on the front of the shoe which made it worse. Well, lesson learned. Never bring your shoes out to hazardous areas!
After our appointment at the DFA, I changed to a loose flowy dress since I knew I was going to be rading the Zara sale. Surprisingly, when I got there, there were BARELY any people and there was no line at all. I heard the other day that the line took 30 minutes so I was so anxious about it which is why I was really surprised when noone was there (This is the MOA branch, btw). I guess everyone already got their goods on the first day of the sale.
ALSO. I visited Aldo and THE LEOPARD BOOTS ARE GONE!!! I.AM.SO.SAD =( I cant believe it! I was just in High Street's Aldo branch around two weeks ago and they were still there! Apparently, the shoe has been in stock since September so now its gone. sigh.