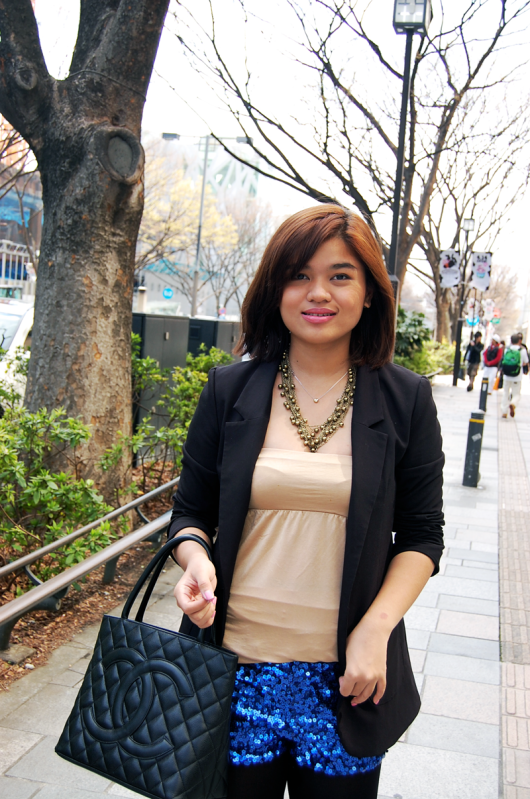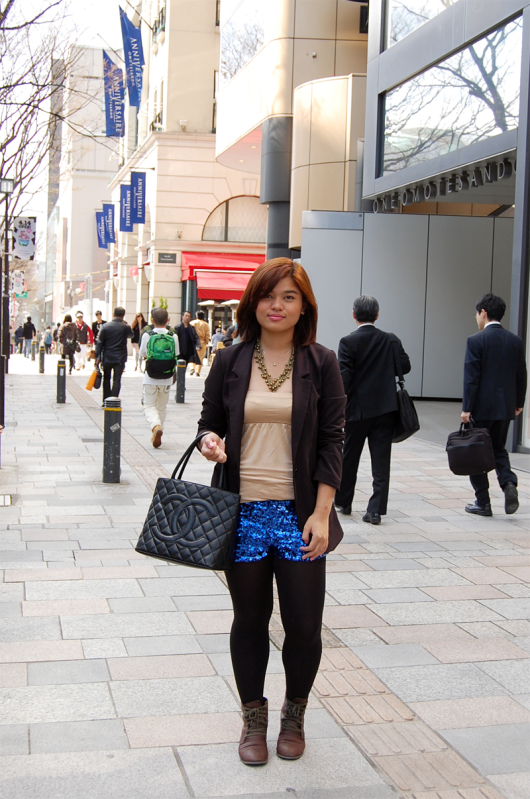 What I Wore: Mango tube top, H&M Blazer, Forever 21 sequined shorts and boots, Marks&Spencer tights, Chanel bag.
Hey guys! So it's been more than 7 months since this trip and yet I'm only able to post again now. School's been killer. It is seriously no joke studying in UP. Especially Architecture, at that. I have honestly not crawled this much in my entire life. Haha.
Anyhoo, so this was another day over at Japan. I pretty much dont remember the names of all the places we visited anymore except that on this day we went to Shibuya, Omotesando Hills (the 'Beverly Hills' of Japan), and Akihabara (Capital city for anime!). We basically just shopped on this day and bought pasalubong in this traditional souvenir shop in Omotesando Hills. Shibuya was jampacked with shops as well. There was the 109 Department Store which was so.. nice!! A department store just FULL of girl stuff on each floor. Could've probably spent the entire day there if not for my parents rushing. Our last stop was Akihabara since my sister wanted to look for the anime figurine that she wanted there (she goes crazy for these things). That place is crazy wild as well. A ton of buildings with endless floors overflowing with toys! We werent able to find the exact figurine that she wanted and it was getting late so we ended up going back the following day.
That's about it for now! I'm preparing more posts for you guys soon. Oh and did you notice my new blog layout? It's so pretty now! Took me till 5am the other day just fixing the blog. Thought it needed a fresh change :-)