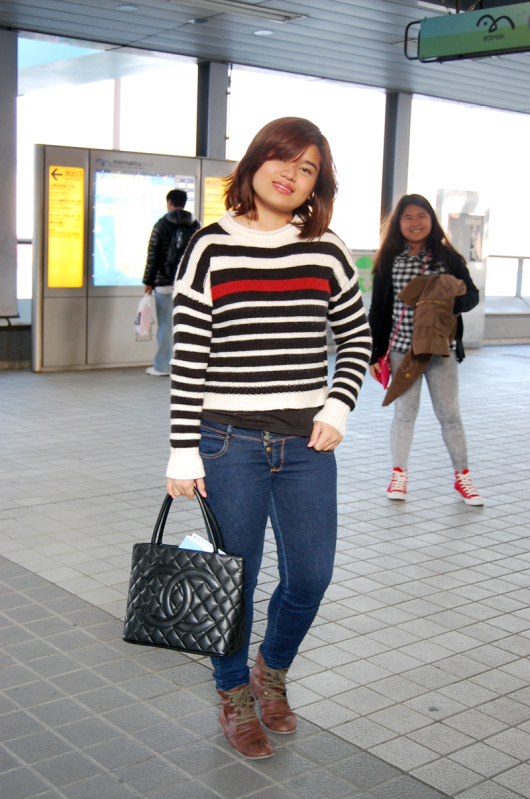 What I Wore: Topshop sweater, Giordano basic longsleeve, Zara jeans, Forever 21 boots, Chanel bag.
This day consisted more of just going around different cities in Japan. God, the trains there are the worst to get used to. So confusing! We probably got lost a billion times during this trip. Its hard to get used to the trains in Japan cause they have more train lines than the ones in NY or HK plus not everything has an English translation so its really hard to get around especially with the fast-paced lifestyle of everyone there. In my honest opinion, it was even more fast-paced in Japan than in New York (considering NY is known to be such a fast-paced city). In Japan, there was never a time when it was just all peace and quiet in the subway. Okay, maybe when it gets late at around 10pm.. but any time before that? Not a chance.
So on this day we did a lot of sight-seeing. We visited Odaiba where we caught a glimpse of the Fuji TV Headquarters (being an Archi student I got all starstruck upon seeing the the building). We went on a tour around Odaiba and dropped by this mall for some genuine Japanese Tonkatsu, followed by a trip to this other mall where there was a showcase of Toyota cars. Here we also realized how expensive dogs are in Japan as we saw dogs being sold in the mall for a hundred thousand PESOS. Yes, dogs here in the Philippines can cost around twenty thousand pesos at most but back there, a hundred thousand was the base cost --and this wasnt even for labradors or any big dogs, they were for teacup sized dogs like chiuauas and terriers.
Anyhoo, we ended the day with a trip to the Tokyo Tower in Minato. Did you know that the Tokyo Tower is even taller than the Eiffel Tower? Its the world's tallest self-supporting steel tower at 333 meters compared to Eiffel Tower's 320 meter height. We spent the night at the viewing deck of the Tokyo Tower to marvel at Tokyo's skyline while a band, Sapatos, played in the background. Add some Baskin Robbins icecream to that, and the night ended perfectly well.