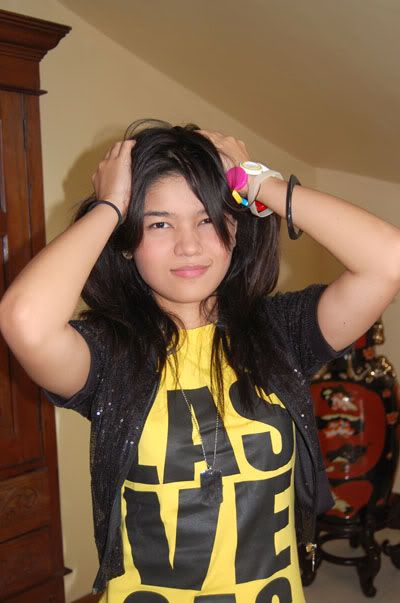 I was inspired by Korean fashion today so I went for that get-up.
Today's outfit was mainly inspired by Sandara Park from the new girl group "2ne1" (21). I just really adore them. Their outfits are just so unique, colorful, and loud which makes them such good scene stealers. Once you set your eyes on any of them, you cant keep them off. The outfits make you want to stare and inspect each and every detail of each piece of clothing. To me, their style is an art. Looking at their clothes alone already entertains, what more when they actually perform?
Sandara Park actually "originated" from the Philippines. She became famous cause of Star Circle Quest (which I've always wanted to join!) and she was an actress and singer here for several years before she actually started this girl group in Korea. I've been following her TV show (2ne1 TV) in Korea and she once mentioned that she misses the Philippines and her friends back here and as much as she wants to go back, she couldnt because she has to first work hard in Korea to be successful in her new role as a member of 2ne1.
This was her before: (During her auditions in SCQ! HAHAHAHA ITS SO FUNNY)
..and this is her now :)
What a change, right? Anyway, thats all for now. I'm out. Ciao!