It was our last day in Singapore today where we did our last minute shopping meaning just minutes before our shuttle from the hotel was leaving for the airport. Good thing our hotel was very near to the mall where we had lunch so it was easy for us to just run it.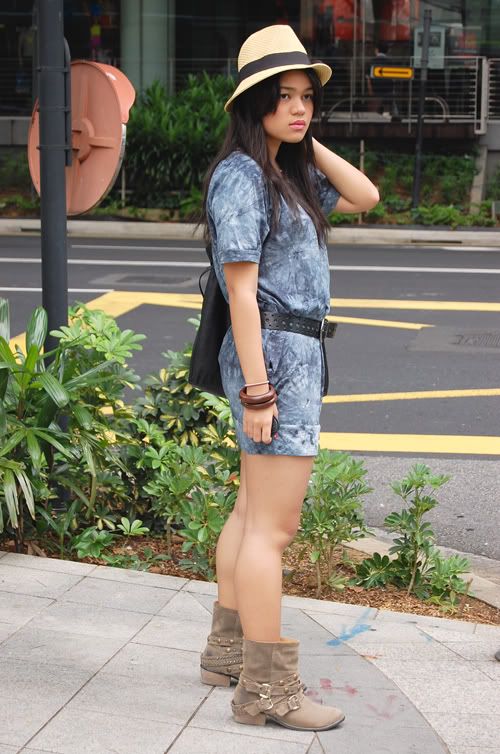 On me are the boots I got from New Look which are just amazing. They are my new favorite shoes. Couldnt stop wearing them! I had to wear them today since I was afraid my luggage would go overweight --I bought a lot of stuff from our trip not to mention the two pairs of heels that I had already brought along with me.
After shopping at New Look, it had already become my favorite shop and I can definitely put it to the level of Forever21. I was actually really amazed at the pieces because the quality was good and they were all so cheap especially the sale items! There were some dresses and shorts for only SG $20 which means thats around 650 PHP or 13 USD. Also, the shoes were just to DIE for! They had a wide array of shoes from flats, to sandals, to sky high heels, to boots, and to rubbershoes, ALL for such cheap prices ranging from SG $20 to SG $60 (650 PHP to 1,800 PHP MAX / 13 USD to 38 USD MAX). These boots for example, were a pair I got along with these blue pumps. They even had a promo where if you spend SG $100 or more on their store, you get SG $15 from your total bill. Cool huh!
Unfortunately, New Look is only available in areas around Europe, in Egypt, Dubai, and Singapore. I was really expecting it to have a branch in the States but surprisingly theres none! Guess I'll just have to ask people to shop for me there! Hee hee.
All in all, my trip to Singapore was great! Really enjoyed hanging out with my bestfriend, touring the city, and shopping till we drop! Would definitely not trade this experience for anything else. I loved it and I sure do hope there will be more to come! xx